We are a small, family-owned and operated business specializing in private service dog training. Our goal is to provide effective, custom and affordable dog training in order to improve the quality of life for clients and their dogs. Since founded in 2012, our services have helped clients enhance their health, overcome challenges and increase independence within home and community settings.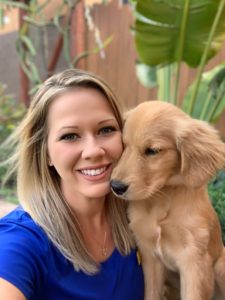 Michelle Magers, M.S., CRC, is the Owner and Expert Dog Trainer with Golden State Service Dogs. Michelle has over 16 years of experience successfully training dogs while working with individuals with disabilities. Her expertise in canine behavior, ethology, learning theory, problem solving and operant conditioning has allowed her to have exceptional understanding of canine communication. Additionally, Michelle is a Certified Rehabilitation Counselor and has earned her Masters of Science in Rehabilitation Counseling from San Diego State University with an Advanced Certificate in Community College Teaching, offering clients both canine knowledge and a holistic health approach to rehabilitation services. She also holds an American Kennel Club (AKC) Canine Good Citizen (CGC), Urban CGC, and Community Canine (CGCA) Test Evaluator Certification and presents and volunteers at schools, organizations, and other community outreach events. Previously, Michelle has worked as a College Instructor working with students with disabilities for the San Diego Community College District, a Certified Area Pet Training Instructor for PetSmart, a Therapy Animal Handler for Delta Society, and a Volunteer Puppy Raiser with Guide Dogs for the Blind, Inc. With her educational background, certification, and exceptional knowledge of laws that affect individuals with disabilities, Michelle is able to provide our clients with direct support, counseling, training, and service dog verification for enhanced independence, employability, and quality of life. She is passionate about dogs, loves to teach, and genuinely cares about serving clients and their unique needs.  Michelle is an Expert Trainer and Certified Rehabilitation Counselor, making the service dog qualifying process enjoyable and easy!
Favorite Breed: Golden Retriever
Favorite Canine Command: "Do the Laundry" – Yes, it's a service dog command Michelle teaches!
Favorite Part of the Job: Getting to help our clients successfully achieve their dog training goals!
Demo Dog: Cali, AKC Pedigree, trained in Medical Response and Mobility Service Dog Work
All AKC Approved Evaluators are listed online. You'll find Michelle Magers listed in Spring Valley, CA.  Click Here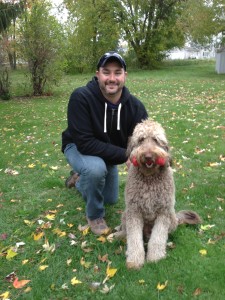 Vince Magers, M.B.A., is the Owner and Event Coordinator for Golden State Service Dogs. Vince has a lifelong love for dogs, and with a successful business career and military background, Vince decided to combine his love for dogs with his knowledge of strict business etiquette to expand his family's passion for specialized dog training services. Vince's desire to bring his expertise to helping dogs and their human's converse more effectively and build stronger bonds was crucial in creating Golden State Service Dogs. Vince has always had a passion for dogs, especially those who need a little more attention. For the past few years Vince has been creating canine accommodation tools for service dog training and assisting in specialized service dog care and training with his wife, Michelle Magers. Vince believes that positive communication and consistency is key in supporting any level of dog training goals.
Favorite Breed: German Shepard
Favorite Canine Command: "Touch Down" during football season and "Balance the Treat & Catch" year-round
Favorite Part of the Job: Getting to watch dogs pass their advanced AKC Tests!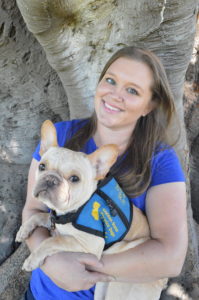 Megan Granzow is the Volunteer AKC Testing Assistant for Golden State Service Dogs. Animals have been Megan's passion her whole life as she was always eager to help take care of pets growing up and began working with dogs at a young age, starting with training her own dog. Today Megan shares her passion for animals and the environmental by working in an environmental department at a local business for the past five years. Megan has successfully earned her Bachelor of Science degree in Business Administration Finance at San Diego State University, and has since then expanded her experience and knowledge of animal training here with Golden State Service Dogs. Megan has always dreamed of training service dogs and is ecstatic to continue learning and sharing her love for dogs and all animals.
Favorite Breed: French Bulldog
Favorite Canine Command: "Relax" – Yes, Megan has an excited pup and uses this command often!
Favorite Part of the Job: Getting to send time with my dog and help clients during their AKC Tests!
Demo Dog: Charlie, AKC Pedigree, trained in AKC Test items; follow him on Instagram @charlie_bean_the_frenchie