GSSD is a small, woman-owned and operated business specializing in private owner-trained working dogs, and provides dedicated expertise in obedience, therapy, and service dog training and qualifications. GSSD's goal is to offer effective, individual and family-friendly custom and affordable dog training in order to improve the quality of life for handlers and their dogs. Since founded in 2012, GSSD services have helped clients enhance their health, overcome challenges and increase independence within home and community settings, all while building stronger and healthier bonds between clients and their well-mannered dogs.
GSSD offers a variety of dog training services to meet most needs using real-world commands and natural distractions and does not endorse a "one size fits all" approach. GSSD uses professional, respectful, safe, humane and natural methods with the best team-training and handling approaches for each dog's age, gender, personality, temperament, and motivation in order to help clients have healthier relationships with their dogs. So, whether dogs are learning obedience commands for the first time, or are in need of a refresher, GSSD services allow for fast improvements, positive socialization skills, enriched community experiences, increased communication and stronger bonds between handlers and their intelligent dogs. Additionally, team training can act as preventative measures to unwanted behaviors and tackle behavior modification needs, while creating possible lifesaving situations for the handler or their dog. With a better understand of communication and expectations between dogs and their handlers, a happier home environment with more quality time between handler and their dog can be experienced.
Current Services During COVID:
Like many small businesses affected in California, GSSD was forced to restructure based on COVID-19 operation restrictions and shutdowns. GSSD made service changes based on state and federal guidelines to ensure clients can still receive assistance in a way that promotes the health and safety of the communities and families that GSSD has the pleasure of working with.
Current Services:
Puppy to Advanced Obedience Training
Service Dog Training and "Owner-Trained" Qualification Process
Therapy Dog Training and Certification Referral Process
All levels of the American Kennel Club Canine Good Citizen Testing (AKC CGC, CGCU, CGCA, and trick dog test)
Fun, family-friendly interactive group classes, boot camps and community events (small classes)
Dog Behavior Modification and Temperament Management (please note that dogs with aggression are only permitted in private lessons or Zoom appointments)
Michelle's Canine Homeschool & Spa with VIP Boarding options (for current GSSD approved clients only)
Meet the Expert: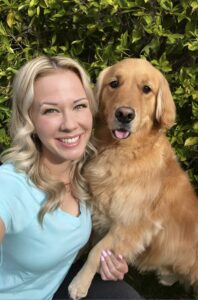 Michelle Hartley, M.S., CRC, is the Owner and Expert Dog Trainer with Golden State Service Dogs. Michelle has over 20 years of experience successfully training dogs while working with individuals with disabilities. Her expertise in canine behavior, ethology, learning theory, problem solving, and operant conditioning has allowed her to have exceptional understanding of canine communication. Additionally, Michelle is a Certified Rehabilitation Counselor and has earned her Master of Science in Rehabilitation Counseling from San Diego State University with an Advanced Certificate in Community College Teaching, offering clients both canine knowledge and a holistic health approach to rehabilitation services. She also holds an American Kennel Club (AKC) Canine Good Citizen (CGC), Urban CGC, and Community Canine (CGCA) Test Evaluator Certification, allowing clients to document their certification with their dogs, be working dogs or super stellar pets!
Michelle presents and volunteers at schools, organizations, and other community outreach events. She is heavy involved in community improvement projects, and volunteers as a Co-Leader for a women's betrayal trauma support group with a faith based organization. Michelle's specializes as a Rehabilitation Counselor, for humans, who want help with medical response and mobility service dogs, especially clients focusing on proactive mental health options. Michelle truly believes in the power of healing with canine bond, and loves seeing clients achieve their whole-health goals!
Previously, Michelle has worked as a College Instructor teaching students with disabilities for the San Diego Community College District, a Certified Area Pet Training Instructor for PetSmart for the Southern California region, a Volunteer Therapy Animal Handler for Delta Society, and a Volunteer Puppy Raiser with Guide Dogs for the Blind, Inc. With her educational background, certification, and exceptional knowledge of laws that affect individuals with disabilities, Michelle is able to provide clients with direct support, counseling, training, and service dog verification for enhanced independence, employability, and quality of life. She is passionate about dogs, loves to teach, and genuinely cares about serving clients and their unique needs.
With Michelle's unique abilities as an Expert Trainer and Certified Rehabilitation Counselor, she helps make the service dog qualifying process enjoyable and comfortable! 
All AKC Approved Evaluators are listed online. You'll find Michelle Hartley listed in Spring Valley, CA.  Click Here