Golden State Service Dogs Standards for Service Dogs: Since service dogs are held to high standards, and not every dog is fit for duty, we help evaluate your dog's overall health, behavior, temperament, obedience level and performance abilities. GSSD Owner-Trained Service Dog Qualification Standards include:
Dog must obey all obedience and skilled task commands from handler 90% of the time on the first time being asked and only relieve themselves in appropriate locations on command
Dog must be trained to respond to commands by voice and/or hand signals
Dog must be well behaved and under control at all times in public and at home, working calmly with no aggressive behaviors
Dog must past the AKC CGC Test, demonstrate that they can be well behaved in public and not disrupt or block aisles, solicit food or other items from the public
Dog and Handler must complete the GSSD Command Evaluation with a minimum of 3 skilled task commands directly relating to the client's diagnosed disability
Dog must comply with Our Dog Health Standards
Handler must provide GSSD with disability verification and a doctor's prescription
Handler must document 120+ hours of training practice over 6+ months
Handler must be able to appropriately respond to access questions in public and understand laws that protect service dog handlers' rights
Handler must be able to provide for their dog's emotional, physical, and financial needs
Handler must complete GSSD's Annual Review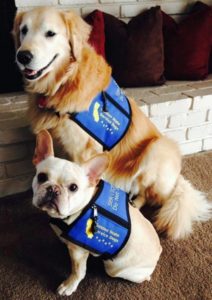 Our Golden State Service Dogs Vests: Clients are fully responsible and liable for their dogs, as agreed in the Responsibility Contract signed. Golden State Service Dogs reserves the right to refuse or terminate services to any consumer at any time. If any client misuses a GSSD's vest or if any dog is unable to perform their duties to our satisfactory or retires, we require clients to return the vest without any cost reimbursement.
Laws that support service dog handler's rights: Federal law defines a service animal as "any dog that is individually trained to do work or perform tasks for the benefit of an individual with a disability, including a physical, sensory, psychiatric, intellectual, or other mental disability. Other species of animals, whether wild or domestic, trained or untrained, are not service animals for the purposes of this definition. The work or tasks performed by a service animal must be directly related to the individual´s disability" (Department of Justice, n.d.).
NOTE: Federal Law states that purchasing service animal ID items for any animal that has not been trained by a professional service animal trainer or passing your pet off as a service animal is criminal. Since we are committed to upholding service dog standards and etiquette, we screen all consumers and dogs in order to insure all our clients meet minimum qualifications for owner-trained service dogs.
Common Questions & Answers:
YES, we train dogs whose owners just want them to be great pets and excel with obedience but do not give them a service dog vest
YES, we train service dogs for individuals who are diagnosed with multiple disabilities
YES, we assist with facility assistance dogs for school, classroom and residential facilities
NO, we do not "place" service dogs
NO, we do not assist with owner-trained guide dogs for visual impairments or alert dogs for hearing impairments due to legal formalities
NO, we do not assist with owner-trained scent-based alert dogs (Alert prior to medical crisis)
NO, we do not provide liability insurance or pet medical coverage to clients (We recommend that clients research, purchase and maintain such coverages from an outside licensed provider of their choice)
Resources: Please PRINT ALL and put in your dog's binder! Please start your Daily Training Log immediately after starting services.
Dept. of Justice_ADA 2010 Revised Requirements
AskJAN_ServiceAnimalsintheWorkplace
Monthly Training Summary Example